---
Radius and UK Fuels celebrate 30th anniversary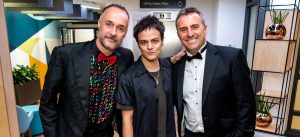 UK Fuels' parent company Radius marked its 30th anniversary this Saturday, with a glamorous dinner and concert at the Manchester Central venue.
Radius began in 1990 with the founding of UK Fuels, and has since grown into a global company providing telematics, insurance, telephony and charge cards across five continents. Headquartered in Crewe, the group is still British-owned.
Over 1,000 Radius employees attended the glitzy anniversary event from offices in 25 countries. Events planners Make Events created a dazzling dining area and stage, set inside the atmospheric space of Manchester's old railway station. Dermot O'Leary hosted the evening and singer Jamie Cullum headlined the evening's entertainment, which also featured local performers Schwing and The Earth Lights.
Radius CEO Bill Holmes commented: "It is great to be able to celebrate this occasion with both the employees and many of my original partners, who have all contributed enormously to create the business as it is today. Dermot, Jamie and all the artists did a fantastic job of making the evening one that will never be forgotten and that has created a great buzz in the office, so thank you to them. It's heads down now and back to work and roll on the 40th!"