Fuel cards for European use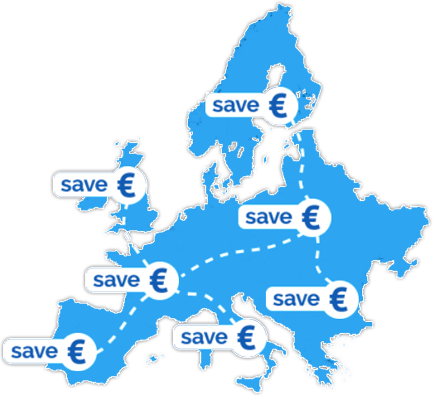 International Fuel cards for Europe or the Republic of Ireland
When operating a fleet outside the UK, your drivers need the security of buying cash-free from an extensive network. Our international EDC card is the ideal fuel card for European HGV transport fleets.
Buy diesel at over 9,000 fuelling stations in 21 countries – and the list is constantly growing.
The European network has HGV fuelling stations on most major European trunk roads and key national border crossings, including all the major branded sites across Europe.
Drivers can use the EDC card to pay for toll roads in the EU and Eurovignettes as well, making travel through these potential bottlenecks faster for your drivers and the processing of expenses easier for you.
The DCI card is tailor-made for HGV travel between the UK and the Republic of Ireland.
Use the largest network of diesel fuelling stations for HGV vehicles, including cheaper bulk purchase bunkering stations, in Ireland.
Diesel prices change twice weekly to stay in line with the global oil market.
Our Velocity online account management platform simplifies your admin and bookkeeping. Each purchase shows up in real time and you can filter all the purchases by driver, vehicle or individual fuel card so that you know how your weekly invoice will look before it even arrives.