---
Co-op filling stations join UK Fuels network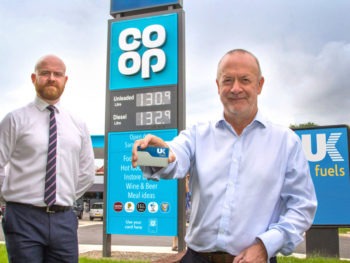 UK Fuels card users can now purchase fuel at 133 Co-op filling stations nationwide under a new agreement between the two firms.
The addition of the Co-op sites to the UK Fuels network means it now has more than 2,950 sites, covering no less than 75% of the UK's independently owned filling stations.
James Higgins, Head of UK Networks at UK Fuels, stated: "Long respected as the group behind the local grocery store, the Co-op is perfectly placed to meet the needs of the growing demand for convenience stores at filling stations. Many of our customers shop at the Co-op and, with this milestone agreement, UK Fuels' cardholders will be able to fill up and shop at the same time."
The Co-op has signed the deal alongside plans to increase its presence in fuel filling stations. It is taking opportunities across the UK to acquire and redevelop existing and new filling station locations and has invested more than £40 million in forecourt shop and fuel projects since 2015.
Eddie Jenkinson, National Fuels Manager at the Co-op, commented: "The Co-op has ambitious plans to increase our forecourt business and we see the agreement with UK Fuels as a key development. It will enable UK Fuels cardholders to use the Co-op operated forecourts at 133 locations across the UK. This will boost the numbers of people filling up with fuel and it will enable us to showcase food for now, and 'food to go' offers in forecourt convenience shops to new customers."
For UK Fuels, the agreement with Co-op is one of the largest contracts signed in the independently owned sector. It is the icing on the cake after a spectacular 24% growth in the UK Fuels network last year.