UK FUELS AND ASSIST PROTECT
UK Fuels are proud to partner with Assist Protect, the accident support provider trusted by more than 46,000 members and over 200 organisations nationwide. Fuel cards for UK Fuels, Shell, Esso, BP, and Texaco are now available to all Assist Protect members.
The benefits of using our fuel cards include:
Guaranteed discount of 3p per litre off the pump price for standard diesel.
Access to more than 3,600 sites on the UK Fuels network.
No contract, account charges or card charges.
Online account management using the Velocity app and website.
Plan your journeys with e-route on your smartphone or SatNav.
Unleaded will be charged at the pump price.
Diesel purchased at supermarket fuel stations will be charged at the pump price.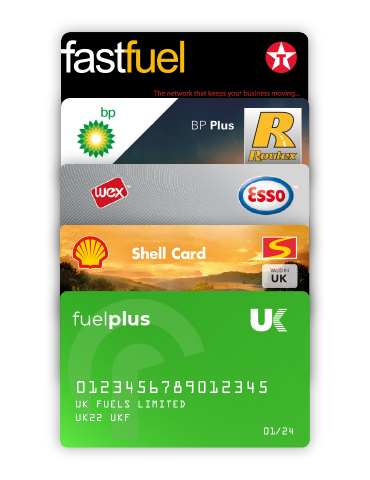 Click here to apply for a card and start buying fuel the smarter way
Frequently asked questions
All fuel card invoices are paid by Direct Debit and this is put in place as your account is set up. This is why we request your DD details as part of the application form.
Please enter 'Assist Protect' in this field.
Once you have completed the application, it will be processed and go to our credit team for a standard credit check. Please note, this can be a hard check. Once that has been completed, your fuel cards will be ordered and dispatched to you and you will receive a link to our online portal, Radius Velocity.
When your account goes live, your fuel cards will be dispatched to your home address. Please ensure you enter the correct home address on your application.
Why use UK Fuels?
As a leader in the fuel card market for more than 32 years, we have the know-how to help you get the most competitive price for your fuel.
Choice and convenience
With one of the largest independent fuel station networks in the UK, our fuel cards can be used at over 3,600 fuel stations nationwide, giving you a wide choice of where to fill up.
Saving time and money
With all our fuel cards, you'll get free access to our online management platform, Velocity. You can easily manage your fuel cards with instant reporting and HMRC compliant invoices, all from either your browser or our handy Velocity smartphone app.

Over 3,600 fuel stations conveniently located across the UK

Guaranteed discount of 3p per litre off the pump price for standard diesel


HMRC Invoices, no need to keep receipts


Excellent HGV, Truckstop and Motorway access

Flexible credit terms to suit your needs

No contract and no non-usage or service fees